Welcome to my Seeinginkspots Blog and April's Stampin' Up! Artisan Blog Hop. This month we are showcasing hand stamped creations using the Sunshine and Rainbows Photopolymer Bundle.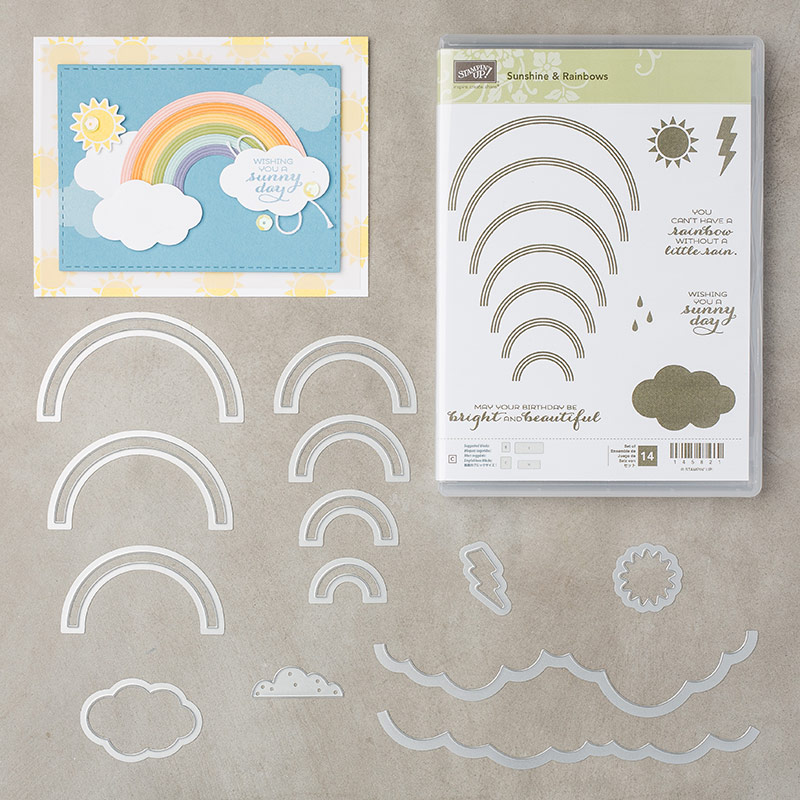 A few weeks ago I was flying to Boise Idaho and we had just taken off. It had been raining all morning, but finally the sun came out, the perfect conditions for rainbows. We were only in the air about two minutes when I noticed we were flying right next to the top of the rainbow--I had a once in a lifetime chance to be face to face with a bright and glorious medley of perfect color.
While the Sunshine and Rainbows Bundle is designed to make rainbow scenes my mind saw the images and framelits and instantly thought watermelons. Once I get a vision in my mind it's hard to shake it, so why not just go with it. So, I have whipped up some bright and cheery watermelon themed rainbow cards complete with seeds! That's right the raindrop image makes perfect seeds and the Glitter and Clear Epoxy Shapes are the best added touch to give them a dimensional touch.
I love this quick trick to add large rick rack edges to a card. To make the fancy edges cut a 4 1/4" x 11" piece of cardstock and fold in half. Put the long side of the cardstock against the edge of the Envelope Punch Board with the end at the 5" marking. The next step is to punch, then move the cardstock to the 4" marking and punch. Repeat at 3", 2", and 1". Below the photo shows the first side completed.
Flip the cardstock over and repeat. That's it, you're done.
My first and second cards both include the Simple Stripes TIEF. I think the stripes are a great way to echo the stripes of the rainbows. For all three cards I heat embossed the greetings. I found that Versamark and White Embossing Powder were the best mix for a clear and crisp look.
My last card came together after getting a fat ink smudge on my completed watermelon rainbow. It broke my heart to just toss it out, so I cut the smear off and then sliced what was left into wedges--cute don't you think?
It has been fun having you visit my blog and sharing my watermelon Sunshine and Rainbow cards. You are now off to Emma Goddard's Coastal Crafter Blog where she has something to share that you're going to love.
Stampin' Supplies
Stamps: Sunshine and Rainbows Photopolymer Set
Inks: Emerald Envy, Lemon Lime Twist, Pink Pirouette, Melon Mambo, Berry Burst, and Versamark
Cardstocks: Whisper White, Pink Pirouette, Lemon Lime Twist, Melon Mambo, Basic Black, and Vellum
Papers: Tutti Frutti DSP and Dazzling Diamonds Glimmer
Tools: Rainbow Builder Framelits, Simple Stripes TIEF, and the Envelope Punch Board
Accessories: Glitter and Clear Epoxy Shapes, Black Solid Bakers Twine, 1/4" Double Stitched Pink Pirouette Ribbon, Lemon Lime Ombre Ribbon, and Birthday Mini Binder Clips